FTF3545B-A—Feather Touch® 3.5" Diameter Dual Speed Focuser Kit, 4.5" Draw tube travel, and Brake
$980.00 – $1,730.00
Description
Feather Touch® 3.5″ Diameter Dual Speed Telescope Focuser Kit, 4.5″ DTT, and Brake.
Below is a photo of what every astronomer needs in their observatory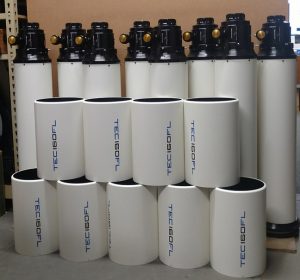 The photo of the 2 telescopes with Feather Touch focusers is courtesy of Bill McLaughlin.
The telescope must have at least 4.35″ of clearance for the draw tube to go inside of the telescope, if not the draw tube will "bottom-out" and give you more back focus.
Please select the proper tube adapter ring and end cap that are needed.  If you need a Finder Scope Bracket, in the drop down box please pick the one that you want.  If you do not need one, please pick the not interested box.
| | |
| --- | --- |
| Known To Fit | Large Refractors |
| Lifting Capacity | 18-20 pounds |
| Draw Tube Thread | 4 3/32 X24TPI thread on vizual side of draw tube |
| Draw Tube Travel | 4.5″/114.30MM |
| Accessory | Locking Collar 5.125×24 Female Thread |
| Other Info | Focuser weighs 6 pounds |
| Draw Tube Drive Mechanism | Rack/Pinion |
| Finderscope hole thread dimension | 8-32 |
| Reduction Ratio | 10:1 |
| Weight of focuser | 5.938 pounds of which includes the standard adapter and 2″ compression ring end cap |
| Racked In from Mounting Face | 5.236 w/Compression Ring End Cap |
| Racked Out from Mounting Face | 9.736″ w/Compression Ring End Cap |
Additional information
| | |
| --- | --- |
| Weight | 9.5 oz |
| Adapter | [A35-503-103] SkyWatcher Esprit 120 & 150mm, [A35-503-136] TS130/150 Photoline, [A35-503-136] TS155 Photoline, [A35-503-145] Takahahsi 128, [A35-503-156] APM 140/152mm Telescopes, [A35-503-AP-GT130] Astro Physics GT130, [A35-503-AP] Asto Physics Thread 4.875x24TPI, [A35-503-FSQ106N]Tak FSQ106N 2008 or older, [A35-503-TEC] 5.75" ID, No thread, fits TEC, [A35-503-TMB] Fits TMB130, [A35-503-TOA130]Takahashi TOA130, [A35-503-TOA150] Takahashi TOA150, [A35-503-WOFLT132] William Optics FLT132, [A35-503-WOFLT152]William Optics FLT151/152/158-TS150MM, [A35-503-WOFLT178]William Optics FLT178, Not Interested |
| End Cap | [EC35-505-1] 92X1 Takahashi Male Thread, [EC35-505-11] 92X1 William Optics Female Thread, [EC35-505-12] FLI 5 series/CFW 5-7Filter Wheel and LRGB Filters, [EC35-505-13] FLI 5 series/CFW 2-7Filter Wheel&LRGB Filters, [EC35-505-14] M48x.75 male thread, [EC35-505-3.5CR] 3.5" Compression Ring End Cap, [EC35-505-3CR] 3.0" Compression Ring End Cap, [EC35-505-65] 65×1 SkyWatcher female thread, [EC35-505-68] M68x1 female theaded end cap, [EC35-505-72] Takahashi M72x1, [EC35-505-82] APM/TMB Reducer, [EC35-505-85] Stellarvue Field Flattener, [EC35-505AP] 2.7" Astro Physics Thread, [EC35-505CR] 2.0" Compression Ring End Cap, Not Interested |
| Finder Scope Bracket | Not Interested |